Centralized procurement platform Information management system Online message
The first phase of Tianhao fiberglass tank kiln with an annual production of 120000 tons of ECR Fiberglass has successfully locked the arch, and the second phase of the project has started as scheduled
---
On the morning of October 9th, the tank kiln arch of Tianhao Glass Fiber Project with an annual production capacity of 120000 tons of ECR glass fiber was perfectly closed. Li Liuxiao, Secretary of the County Party Committee of Helingeer County, Gao Feng, Deputy Secretary of the County Party Committee and County Magistrate, and other county leaders, Liu Sixiao, Chairman of Inner Mongolia Tianhao Glass Fiber Co., Ltd., Liu Lingxia, General Manager, Liao Hongying, Vice President of the Group Company, and Lai Huatao and Sheng Hongsheng, Deputy General Manager of the Glass Fiber Engineering Division, jointly attended the arch locking ceremony. The successful lock arch of the pond kiln marks a crucial step towards the ignition and production of the first phase of the Tianhao fiberglass project. After the ceremony was completed, Li Liuxiao, Gao Feng, and a delegation visited the interior of the tank kiln, and highly praised and fully recognized the construction quality of the Tianhao fiberglass project.
The Tianhao fiberglass project has a total investment of 6 billion yuan and plans to construct five high-performance fiberglass production lines with an annual output of 120000 tons in three phases. The first phase of the 120000 ton production line will commence in February 2023, with a contract period of ignition in late November 2023. The project department moved to Inner Mongolia in July for installation and construction. Manager Huatao planned ahead and organized various construction plans and construction organization plans. Actively coordinate and solve local water and electricity problems on site. The business unit provides strong support and organizes elite personnel to strive to produce high-quality projects. During the construction process, the project team lived up to expectations and demonstrated the spirit of the Henan Installation Iron Army, sharing weal and woe, brainstorming and working together, fearless of the hot weather and muddy roads. They overcame the difficulties of being acclimated to the local conditions and achieved the quality and reputation of the installation industry in Henan. Sheng Hongsheng, an expert in furnace construction, personally supervised the construction of the core parts of the kiln. After unremitting efforts in the project, the planned completion time was advanced by one month, fully winning the trust and praise of the owner.
On the morning of October 11th, the construction ceremony for the two 120000 ton production lines of the Phase II project was held as scheduled. All employees of the project department, dressed in neat group company uniforms, proudly stood up with signs, standing on the vast grasslands of Inner Mongolia. Listen, it's the sound of war horses; Listen, it's the cry of the charge. The Inner Mongolia Tianhao Fiberglass Project will uphold and practice the company's cultural philosophy. Consistently dedicate high-quality products to meet the expectations of homeowners!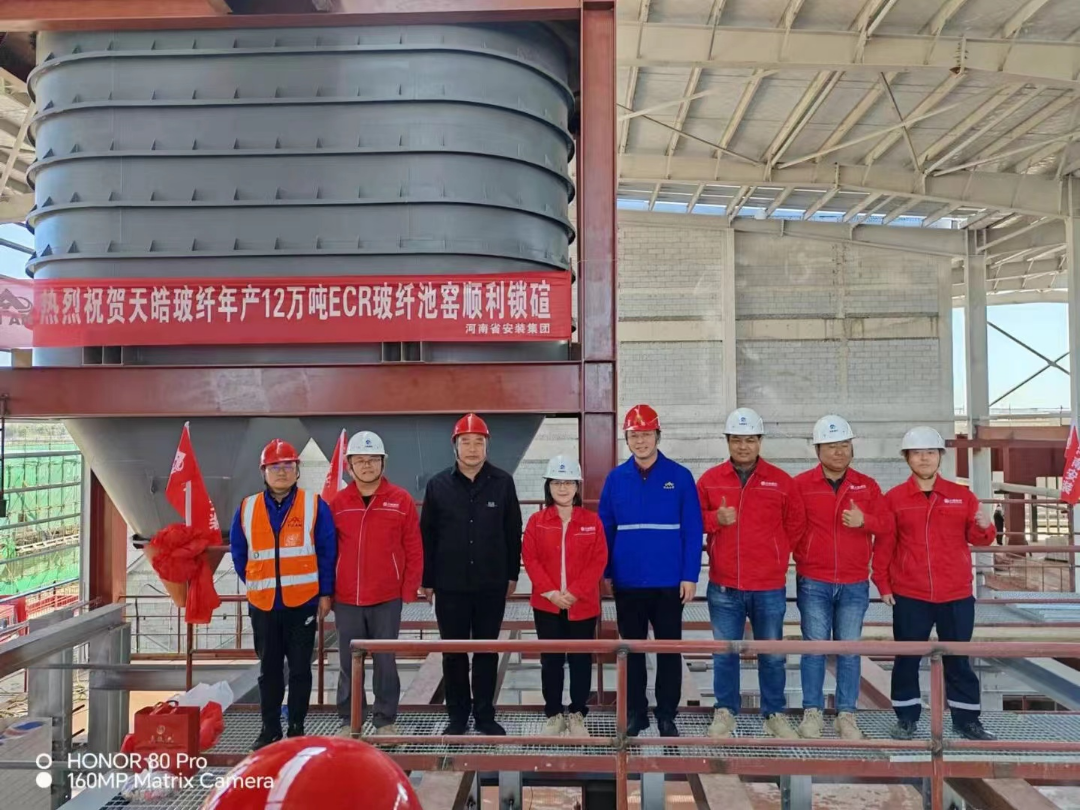 ---