Centralized procurement platform Information management system Online message
Company Profile
---
Henan Province Installation Group Co., Ltd. (simply referred to as Henan Installation, Yu'an Group), headquartered in Luoyang, which was once the capital of thirteen ancient Chinese dynasties. It was established in 1954 under the Central Ministry of Construction. Later, it was relocated to Henan province and, in 1998, was restructured from Henan Province Industrial Equipment Installation Company. Having over 30 branches and subsidiaries at home and abroad, it is a comprehensive, diversified, international and modern enterprise group integrating investment, design, construction, manufacturing, operation, maintenance. The group strives to build a scientific and technological, innovative and youthful enterprise.
Henan Installation has six Grade A qualifications for general contracting of electromechanical engineering, architectural engineering, municipal public engineering, petrochemical engineering, electric power engineering, metallurgical engineering and Grade B qualifications for general contracting of highway engineering, water conservancy and hydropower engineering, and eight Grade A qualifications for special contracting of steel structure engineering, hoisting equipment installation engineering, fire protection facilities engineering, decoration engineering, ground foundation engineering, waterproof anticorrosive and thermal insulation engineering, building mechanical and electrical installation engineering, environmental protection engineering,Grade B qualification for architectural design and has a number of licenses for Power facilities installation (repair, test), power engineering commissioning enterprise power engineering, lifting machinery installation and maintenance, boiler installation and transformation, pressure pipeline installation, pressure vessel manufacturing and a chemical equipment dismantling construction enterprise safety service capacity level A certificate.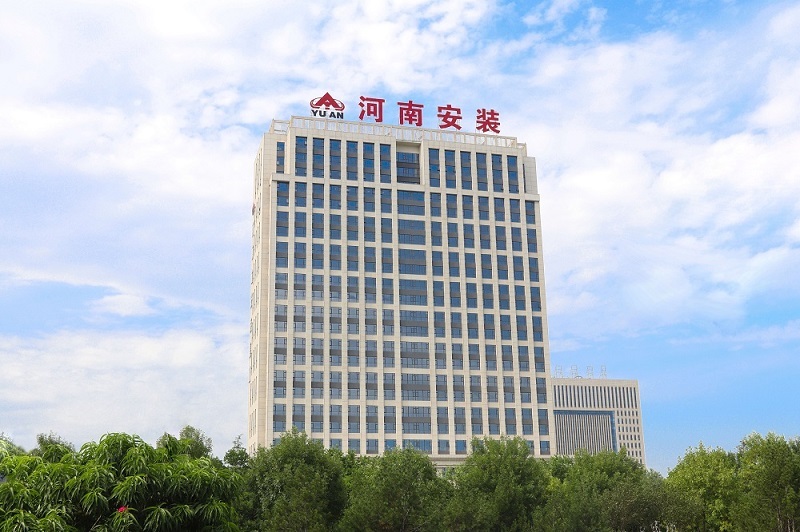 Henan Installation has a registered capital of 1.5 billion yuan and an annual production capacity of 20 billion yuan. It currently has over 4,100 employees, of whom over 1,800 hold senior or intermediate titles, over 500 are national registered personnel, over 1200 are technicians or senior technicians, and over 1,300 are intermediate or senior skilled workers. Having more than 3,500 pieces of different types of construction, testing and debugging equipment, Henan Installation has a strong technical force, complete supporting professional skilled workers and sophisticated machinery and equipment.
Rooted in Henan, face to China, embracing the world, Henan Installation is committed to general and specialized contracting of industrial works, housing construction and municipal road &bridge works, as well as the manufacturing and installation of metal structures and pressure vessels, and has undertaken successively more than 1,400 large and medium-sized projects at home and abroad, with customers covering many Fortune 500 companies and covering dozens of countries and regions in Europe, Asia and Africa. We have invested and operated urban heating, biotechnology projects and green steel structure intelligent manufacturing bases, created the brand of "Antai" for real estate development, and strived to realize the transformation from engineering contractor to integrated service provider.
Henan Installation has been honored as an advanced enterprise in the national installation industry, one of the top 50 enterprises in the national installation industry, one of the top 100 enterprises in Henan Province, one of the top 20 construction enterprises in Henan Province, one of the top ten excellent construction enterprises in Henan Province, an advanced enterprise in the construction industry in Henan Province, and an advanced enterprise in technological innovation in Henan Province and has been rated as national AAA credit enterprise and excellent construction enterprise in Henan Construction system credit evaluation.
Henan Installation focuses on scientific and technological innovation, has a postdoctoral research station, provincial enterprise technology center, BIM optimization design center, engineering testing center, engineering commissioning centeral and provincial engineering technology research center, has unique technical advantages in construction, municipal, building materials, electric power, petrochemical, metallurgy, etc. The construction capacity and performance of glass and glass fiber ranks in the leading position among the national glass and glass fiber industry. We have compiled the Specification for Construction and Quality Acceptance of Waste Heat Power Generation Projects in Cement Plants and the Specification for Construction and Acceptance of Equipment Installation Projects in Building Materials Industry, and edited the Specification of Construction and Acceptance for Combustion System of Domestic Waste Incinerator in Henan Province. It has won more than 30 national awards such as the National Scientific Conference Achievement Award, Luban Award, National Quality Project Award and China Installation Star, more than 80 provincial and ministerial quality projects, and more than 130 national invention and utility model patents. The subsidiaries Henan Xinghan Biotechnology Company and Yu'an Metal Structure Company have been recognized as national high-tech enterprises.
Upholding the business philosophy of "Integrity, Pragmatism and Win-Win Cooperation", keeping the business purpose of "Setting a monument, making some friends, cultivating a group of talents and opening up a market by doing a project", and implementing the management policy of "Integrity, law-abiding spirit, dedication to quality, care for life, environmental protection, process control and continuous improvement", Henan Installation is committed to building the company into a Luoyang business card, an international brand, and a well-known integrated service provider to provide customers with quality products and services.
Looking to the future, Henan Installation would like to sincerely cooperate with new and old friends from all walks of life to start a new journey full of hope and light!