Centralized procurement platform Information management system Online message
Two projects of the Sixth Engineering Company won provincial quality management awards
---
Recently, the Henan Construction Industry Association and the Henan Engineering Construction Association have successively released good news. The QC team of the Group Company's Sixth Engineering Company Henan Institute of Technology New Campus Expansion Project 2 # Training Building Project Department and the Guangdong Heshan New Production Line Project Department have respectively carried out quality process management activities on research topics such as "Improving the First Acceptance Rate of Concrete Frame Column Appearance Quality" and "Reducing the Leakage Rate of Steel Structure Wall and Roof Color Steel Plate", has won the second and third prize for achievements.
In the construction management process, the project department attaches great importance to quality management and implements technological innovation activities. In the organization of the construction process, quality management, technological innovation, and cost reduction and efficiency increase are combined. In response to the difficulties and common problems in engineering quality, a "QC Activity Management Group" composed of project leaders and relevant technical personnel has been established based on the construction characteristics. Under the attention of company leaders and the guidance of the technical and quality department of the engineering company, the group conscientiously implements the PDCA cycle control, gathers ideas, and aims to improve engineering quality and work efficiency, laying the foundation for engineering construction quality. Through on-site investigation, careful selection of research topics, reasonable setting of goals, analysis of main reasons, formulation of corresponding countermeasures, and confirmation of process control results, a good result has been achieved at this stage.
By carrying out QC group activities, the team's operations have been standardized and refined, which not only effectively avoids common quality problems, significantly improves construction quality, reduces construction costs, accelerates construction progress, but also greatly stimulates the enthusiasm and creativity of project management personnel, leverages professional advantages, provides suggestions and suggestions for the subsequent construction of the project, and helps the successful completion of the project.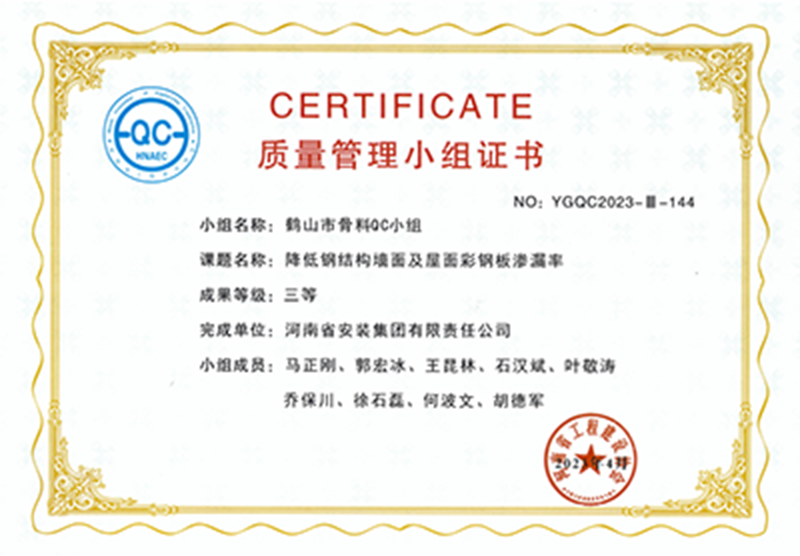 ---