Centralized procurement platform Information management system Online message
The arch of the Saudi Gadian float cold repair project was successfully closed
---
At 10:18 am local time on May 22, 2023, the large arch of the Saudi Gadian float cold repair project was successfully closed. Ayub Khan, General Manager of Saudi Gadian, Zhao Wenke, Project Manager of Saudi Gadian at China Building Materials International Engineering Co., Ltd., and Shi Guoqiang, Project Manager of Saudi Gadian at the Glass Fiber Division, jointly attended the arch locking ceremony. The successful closure of the arch marks the countdown to the ignition of the Saudi Gadian project.
The Saudi Gadian project is the first Middle Eastern country project undertaken by the company and an important step in the "going global" strategy. Faced with the requirements of high quality and standards, the early progress of steel structure installation is slow. At the end of February, the general manager of the business unit, Fu Yongfeng, personally visited the project to provide guidance and put forward many constructive suggestions. At the same time, he actively communicated with the owner and Party A's leaders to effectively solve on-site problems, creating necessary conditions for the construction of the large kiln. Entering May, the temperature in Saudi Arabia skyrocketed, with the highest temperature exceeding 45 ° C. The project department actively coordinated and effectively provided logistical support, constantly monitoring the physical condition of on-site workers. Finally, with the active coordination of the business unit leaders and the joint efforts of all employees in the project department, the construction of the large arch was completed in just over 10 days.
The smooth closure of the arch cannot be separated from the active coordination of the leaders of the business unit, let alone the hard work of frontline workers. The 6.15 ignition goal is imminent, and all employees of the project department will continue to uphold the spirit of "three lectures and three hardships" to ensure the smooth ignition and provide a satisfactory answer to the owner and party A.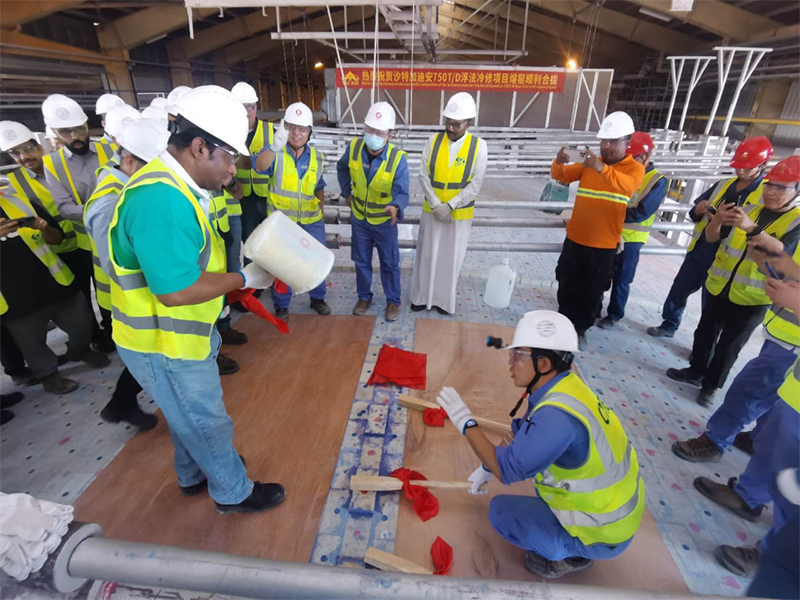 ---