Centralized procurement platform Information management system Online message
Junhe Yungu Project won the title of "Luoyang Safety Civilization Standardization Demonstration Site"
---
Recently, the Junhe Yungu · Luoyang Information Science and Technology Port Project, which was undertaken by the Construction Engineering Division, was awarded the title of "Demonstration Site of Safety Civilization Standardization of Construction engineering in the second half of 2022 in Luoyang City".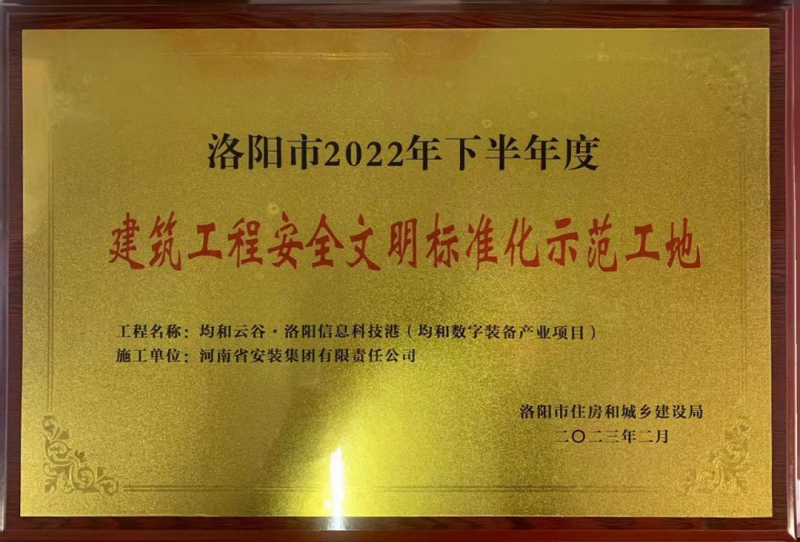 Since the preliminary planning of the Junhe Yungu project, it has defined the goal of creating a safety civilization standardization demonstration site, actively implemented the company's management system and standardization implementation manual, to do a good job in the construction of safety civilization with high standards and strict requirements, and actively carried out various training and learning activities to enhance the safety responsibility consciousness of all staff; Strengthen the construction of safety risk hierarchical control and hidden danger screening and management system, ensure the steady progress of project safety civilization standardization, no safety accidents, and finally win a high degree of recognition and praise from Party A and superior departments.
The project department will continue to strictly implement various safety management measures, improve the level of project safety management, strengthen the investigation and treatment of hidden dangers, strictly monitor the whole process, continue to promote the standardization of safety production management and the construction of long-term safety production mechanism, strive to create a demonstration site of safety civilization standardization in Henan Province.
---