Centralized procurement platform Information management system Online message
Yu'an Metal Structure Company won the title of "Integrity Private Enterprise" in Luoyang in 2022
---
Recently, the list of winners in the 2022 Luoyang "Honest Private Enterprises" and "Honest Advanced Individuals" selection activity jointly carried out by Luoyang Civilization Office and Luoyang Municipal Development and Reform Commission was announced. Luoyang Yu'an Metal Structure Co., Ltd., a subsidiary of the Group, was on the list and was awarded the honorary title of "Honest Private Enterprises".
No man can stand without faith, and no business can thrive without faith. In recent years, Yu'an Metal Structure Co., Ltd. has deeply practiced the corporate culture of the group company with the core content of "building confidence, changing style, shaping image, valuing credit, promoting integrity and promoting development", always adhering to the business philosophy of "integrity and pragmatism, win-win cooperation", actively exerting professional advantages, strengthening scientific and technological innovation, accelerating the construction of the "Yu'an" brand and integrity system, fulfilling corporate responsibilities with practical actions, and fulfilling social responsibilities, It has constantly created a good corporate image of civilization and integrity.
This award is both an affirmation and a spur. In the future, Yu'an Metal Structure Co., Ltd. will make persistent efforts, continue to deeply practice the corporate culture, further improve and strengthen the construction of the corporate credit system, comprehensively improve product quality and performance service capabilities, continue to practice the concept of law-abiding and integrity, and make new and greater contributions to promoting the construction of "Credit Luoyang".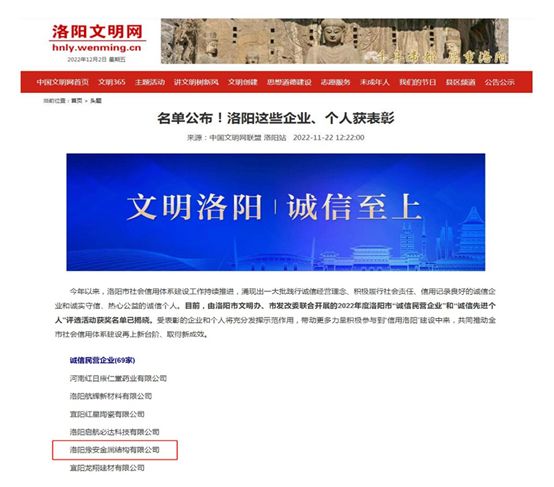 ---