Centralized procurement platform Information management system Online message
Make every effort to seize the progress and jointly sprint to ensure the traffic -- Zhang Hanzhi, Secretary of the Party Committee of Yiyang County, visited Qianjin Bridge Project for on-site investigation and supervision
---
On the morning of November 30, Zhang Hanzhi, Vice Chairman of Luoyang CPPCC and Secretary of Yiyang County Party Committee, Zhang Lijuan, Deputy Secretary of the County Party Committee and Head of Yiyang County, Wang Dingze, Zhao Ke, Liu Bihui, Wu Changxun and Zhang Hongbo, the county leaders, visited the Qianjin Luohe River Bridge Reconstruction and Expansion Project site for investigation and supervision, and the heads of the County Housing and Urban Rural Development Bureau, the Transportation Bureau and the Urban Administration Bureau participated in the investigation.
Secretary Zhang and his delegation observed the progress of civil construction and the erection of main line steel box girder along the construction access road, listened to the relevant reports, coordinated the promotion of specific issues on site, and carefully checked the implementation of measures such as element guarantee, safe construction, epidemic prevention and control. He stressed that the construction progress should be accelerated to ensure that the main line of the New Year's Day Bridge will be open to traffic from north to south and will be fully open to traffic before the Spring Festival.
Zhu Jianluo, general manager of Yu'an Metal Structure Company, said in the report that, as a project participant, Yu'an Metal Structure Company will further improve its political position, focus on time nodes, and strive to tackle the difficulties. On the basis of continuous efforts to prevent and control the epidemic, it will spare no effort to speed up the progress of steel box girder production and safety, ensure that the task is completed on schedule with high quality, and provide a solid guarantee for the full opening of the project.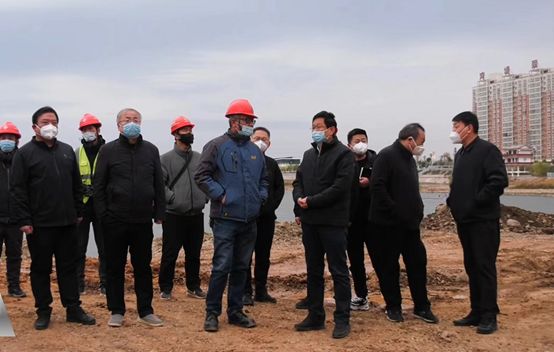 ---