Centralized procurement platform Information management system Online message
The boiler hydrostatic test of Zhongjiang Domestic Waste Environmental Protection Power Generation Project was completed ahead of schedule
---
At 11:58 a.m. on November 11, 2022, amid the roar of the salute, the boiler hydraulic test of the Zhongjiang Domestic Waste Environmental Protection Power Generation Project undertaken by our company succeeded once.
In the face of many difficulties such as the COVID-19, the scorching sun and high temperature during the construction process, people in Yu'an did not shrink back. Under the careful organization of the Project Department, dozens of Yu'an people from the first and second lines worked day and night and worked overtime. Finally, on the 11th of this month, they successfully reached the hydraulic test node, which was far beyond the end of November as expected by the owner. The project department's fighting spirit of not bowing to difficulties and fighting tenaciously has been highly praised by the owner and the supervision unit.
Zhongjiang Domestic Waste Environmental Power Generation Project is the second phase environmental protection project invested by Everbright Group in Zhongjiang County, Sichuan Province. The design scale of the project is 500 tons of domestic waste per day and 182500 tons per year. It is of great significance to reduce the amount of garbage landfills and solve the problem of garbage occupying land.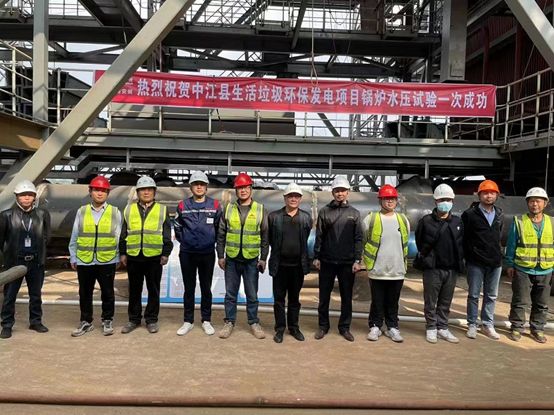 ---