Centralized procurement platform Information management system Online message
Make Persistent Efforts to Write a New Chapter of Cost Reduction and Efficiency Increase
---
Recently, the Henan Construction Industry Association announced the good news that the QC results of "Improving the Acceptance Rate of Pre-Buried Anchor Bolts Installation at One Time" compiled by the QC team of the Guangdong Heshan New Aggregate Production Line Project Department of Henan Installation Sixth Engineering Company won The third prize of the 2022 Henan Provincial Engineering Construction Quality Management Team Achievement Award.
The styles and models of the anchor bolts of the project are different, and the number is as many as 2,000. The project department has established a QC achievement technical research team based on the construction characteristics, which has successfully reduced the installation deviation of the pre-buried anchor bolts on the construction site; Carry out QC group activities to standardize and streamline team operations, improve construction quality and reduce construction costs.
At this stage, the main steel structure of the project has been completed. In the next stage, there will be a lot of construction of the enclosure structure. The installation quality of the wall and roof color steel plate is particularly important, and it is also the key point and difficulty in the construction. The QC achievement technical research team took "Improving the Waterproof Performance of Steel Structure Walls and Roof Color Steel Plates" as the next topic. The members of the group said that they will make persistent efforts, maintain enthusiasm and creativity, give full play to their professional advantages, and contribute their own strength to the project to reduce costs and increase efficiency.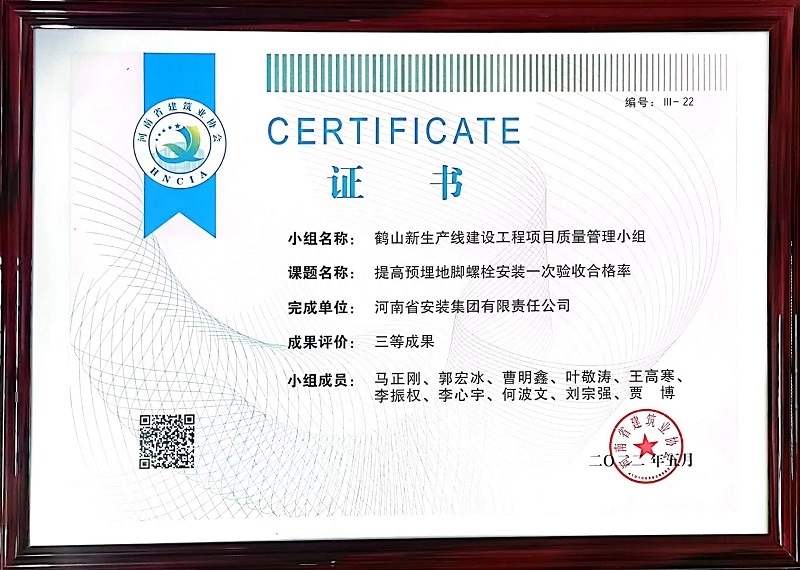 ---