Centralized procurement platform Information management system Online message
Xinxiang Xinlianxin Project Ammonia Synthesis Tower Was Hoisted Successfully.
---
At 8:11 am on September 17, 2021, at the ammonia synthesis construction site of Xinxiang Xinlianxin Project, the ammonia synthesis section, following the hoisting of 800T crawler crane machines, the internals of the synthesis tower were slowly hoisted. The 800T crawler crane is used as the main crane and the 300T truck crane is the auxiliary crane. The traditional method of main crane lifting and auxiliary crane sliding tail is adopted. The total weight of the internal parts is about 88 tons, the height is about 33 meters, and the diameter is 3 meters. The synthesis tower is the large core equipment of the synthesis equipment, and it is also the highest single unit and the most difficult hoisting unit.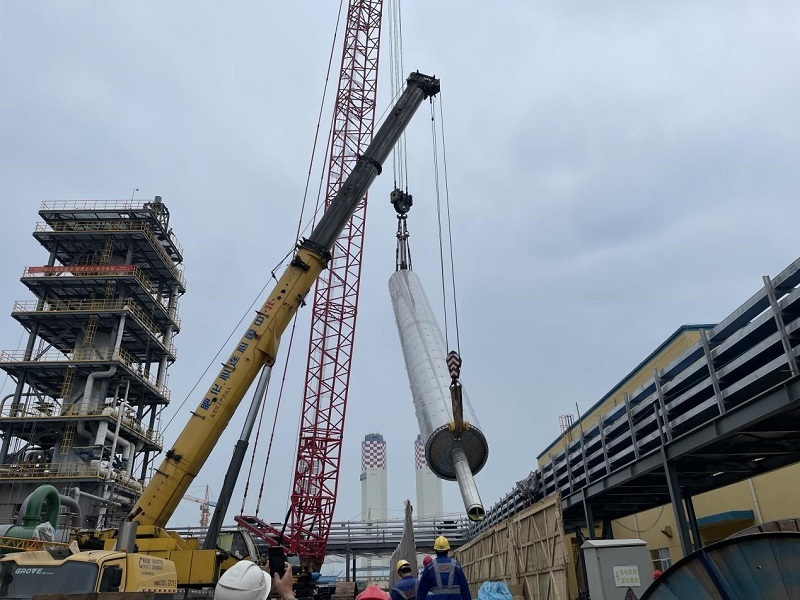 In order to ensure the safe, orderly and efficient completion of the hoisting work, Xinxiang Xinlianxin Project Department combined the actual situation of the site, carefully organized and scientifically deployed, planned the crane travel route in advance, and leveled the site. During the hoisting period, the synthetic pipeline professional team is aligning the pipes. In order not to affect the construction progress of the synthetic pipeline, the project department combined the actual situation to make the 800T crawler crane assembled outside the site. After assembly, the crane was moved to the hoisting position one day in advance, and the equipment was inspected and sealed in advance, which has overcome the difficulties of small space and hard to assemble the crane.
So far, the two important equipment of the synthesis section-the shell and internal parts of the synthesis tower have been hoisted in place, which has once again shown Henan Installation's excellent hoisting strength. We will continue to improve the hoisting level and build the core competitiveness of the chemical engineering department.
---