Centralized procurement platform Information management system Online message
Huang Kezheng, Secretary of the Party Committee, Chairman and President of Henan Province Installation Group went to Xinghan Company to inspect and guide the work.
---
On April 30, 2021, Huang Kezheng, Secretary of the Party Committee, Chairman and President of the Group Company, visited Xinghan Company for inspection and guidance. Yan Congyun, Deputy Secretary of the Party Committee and Vice President of the Group Company, and the heads of the Engineering Management Department, Asset Management Department, Comprehensive Office and other related departments accompanied this Inspect.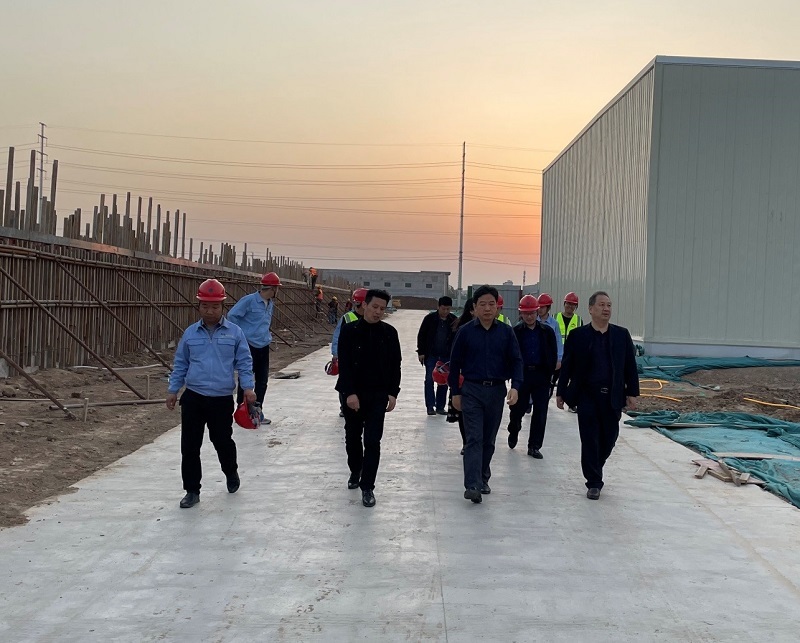 The group company's party committee secretary, chairman and president Huang Kezheng and his entourage went to Nanle County to go to the site of Xinghan's 200,000 tons/year high-gloss pure polymer-grade L-lactic acid project. After listening to Xinghan's on-site report, he emphasized: on the basis of making sure construction safety and quality, reasonable arrangements should be made to work overtime to speed up the construction progress, to ensure that various construction tasks are quickly advanced in accordance with the time node, and to ensure that this progress is put into production at the end of the year.
On the morning of May 1, Huang Kezheng attended the monthly economic activity analysis meeting of Xinghan Company and made further requirements for Xinghan Company's production, operation and management:
1. Adhere to the cost leadership strategy. Cost is the foundation of business survival. There is no bankrupt industry, only bankrupt companies. Xinghan Company must adhere to the development concept of "best quality, lowest price, and best service", improve the cost analysis database. We must strengthen process control with standardized and refined management, and finally form the lowest cost operation mode. It is necessary to improve the performance appraisal system and formulate practical and feasible quantitative appraisal indicators. The appraisal should be detailed to teams and positions, and the cost should be reduced through appraisal.
2. Adhere to the strategy of leading technology. It is necessary to increase investment in science and technology, and carry out in-depth research and development of new technologies, new processes, new equipment and new materials and the transformation of results. It is necessary to train R&D teams, strengthen the breadth and depth of technical research with the school; formulate R&D plans, clarify time nodes and responsible persons; continuously improve the performance evaluation system for R&D personnel, accelerate the progress of R&D, and strive for new breakthroughs in R&D.
3.We must attach importance to personnel training. It is necessary to do a good job in the personnel reserve of the second phase of the Xinghan project, strengthen training, and strengthen personnel professional knowledge, practical skills training, company culture, rules and regulations, and professional ethics training. At the same time, it is necessary to continue to improve the assessment and examination mechanism, establish score files, link test scores with employee performance and job level ratings, select the best candidates to hire, enhance the vitality of the talent team, and create a team of employees who are loyal to their duties, skilled, disciplined, proficient in business, obedient to commands, and effective in execution team.
4.We must implement safety responsibilities and strictly control quality, improve the safety production responsibility system, clarify safety responsibilities and goals; strengthen safety education and training, put daily safety training and safety education work in an important position. Safety education will be carried out before class, strengthen safety inspection and supervision, and ensure the implementation of safety measures To ensure safe production; strictly control the quality, earnestly implement the quality management system, strengthen the implementation of responsibilities, strengthen supervision and inspection, and effectively improve the production quality of the first phase and ensure the construction quality of the second phase.
5.To broaden sales channels. It is necessary to strengthen investment in business forces, actively use Internet platforms and other online methods to promote product sales, continuously expand foreign trade sales channels, and expand market share.
Finally, Huang Kezheng also made a request for the Xinghan Phase II project: it will be put into operation by the end of this year, and Xinghan will take this node to reverse the schedule, carefully arrange the construction plan, and organize the site construction. Relevant departments of the group company must do a good job in ensuring safety, quality, equipment and material procurement, etc., to ensure that the second phase is put into operation on schedule.
---