Centralized procurement platform Information management system Online message
Rainbow Hefei Photovoltaic Phase I Kiln Cold Repair Project Successfully Ignited
---
At 9:58 am on May 16, 2023. Feng Gao'an, General Manager of Rainbow Hefei Photovoltaic Co., Ltd., Fan Tianlan, Vice General Manager of Glass Fiber Engineering Division, Sheng Hongsheng, Project Manager Li Longqing, and all project personnel attended the ignition ceremony together.
The 1 # kiln of Rainbow Hefei Photovoltaic Co., Ltd. is a 750T/d full oxygen combustion glass furnace, which is currently the largest full oxygen kiln constructed by the company. Therefore, the initial progress of arch brick masonry is slow. With the care and guidance of the company and business unit leaders, the project department actively organizes and arranges personnel to enter the site with a 24-hour shift, and completed the closure work of the large arch on April 17th, Under the guarantee of quality and quantity, the construction of the large arch was completed in over 20 days, which earned valuable time for today's ignition. The project progress was one month ahead of the original planned schedule and received unanimous praise from the owner of Party A.
The successful ignition of the Rainbow Hefei Photovoltaic Phase I Kiln Cold Repair Project has accumulated valuable experience for the company in the construction of full oxygen kilns, provided a satisfactory answer to Rainbow Group, and laid a solid foundation for future cooperation with Rainbow Group. All employees of the Hefei Rainbow Project Department will make persistent efforts to implement the company's management philosophy, continue to promote the company's culture, provide high-quality engineering for the owners, and create new achievements for Yu'an!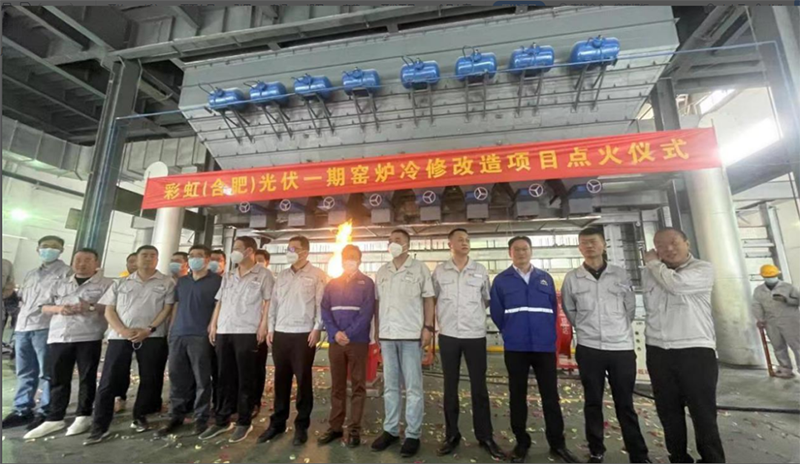 ---