Centralized procurement platform Information management system Online message
Successful Water Pressure Test of Boiler 3 # in Baitong Hongda Thermal Power Project
---
The second phase of the cogeneration project of Baitong Hongda Heating (Siyang) Co., Ltd. was undertaken by the Fourth Engineering Company. On April 27, 2023, at 9:39 am, under the joint witness of various units, the overall water pressure test of boiler 3 was successful once. The construction of the project took 87 days, marking the complete completion of the main installation work of the boiler equipment, laying a solid foundation for subsequent work such as boiler insulation, acid cleaning, and pipe blowing.
During the construction period, in order to ensure the successful completion of the milestone nodes for the boiler water pressure test, the Siyang Baitong project department gathered all members of the project team to overcome difficulties and work hard to solve problems such as narrow construction sites, delayed material delivery, and excessive rainfall, ensuring the smooth progress of this water pressure test.
The ancients once said that no effort, no gain, and all members of the project team confirmed this statement in their actions. During this hydraulic test, there was no leakage at all welding joints, and all technical indicators met the design requirements. The on-site inspection team of the hydraulic test conducted multiple comprehensive inspections of the system, and found that there were no water droplets, mist, cracks, or deformation on the metal walls and welds of each pressure component, The Siyang Baitong project department fulfilled its mission and won the boiler "water pressure battle", winning great recognition from the owners and delivering a satisfactory answer sheet.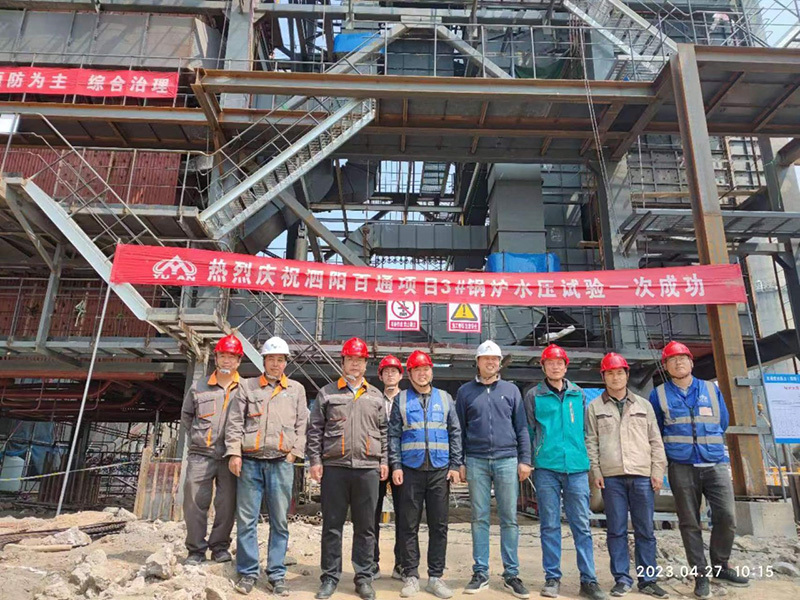 ---