Centralized procurement platform Information management system Online message
The main structure of Luoyang Traditional Chinese Medicine Hospital is completed.
---
At 10 am on June 30th, as the concrete of the Luoyang Traditional Chinese Medicine Hospital Yibin District was poured over, the main structure of the project was fully capped! Li Yubo, deputy director of the Municipal Health Commission, Zhang Jincheng, Party Secretary of the Municipal Hospital of Traditional Chinese Medicine, Wang Ying, Dean, Zhang Daokui, Assistant to the President and General Manager of the Construction Engineering Department of the Group Company, and Zhang Xiaozheng, Secretary of the Department, attended the ceremony to witness this milestone moment.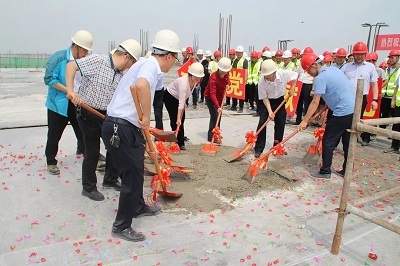 A staged victory does not mean a successful ending. In the next step, all management personnel of Luoyang Chinese Medicine Hospital project will continue to strive, be persistent and persevere, never forget the original aspiration, keep the mission in mind, and strictly abide by the quality management standards with full enthusiasm and a serious and responsible attitude, accelerate the construction progress, and ensure the follow-up construction of this project will be complete smoothly on time and with guaranteed quality, which has met the eager expectations of the municipal party committee and government, owners and all walks of life!
---