Centralized procurement platform Information management system Online message
Henan Province Installation Group obtains the Class A certificate of the safety service capability of the chemical equipment dismantling construction enterprise.
---
On May 26, 2021, the group company successfully obtained the "Chemical Equipment Demolition Construction Enterprise Safety Service Capability Grade Certificate" jointly issued by China Chemical Construction Enterprise Association and Beijing Sinochem United Certification Co., Ltd., with an evaluation level of A.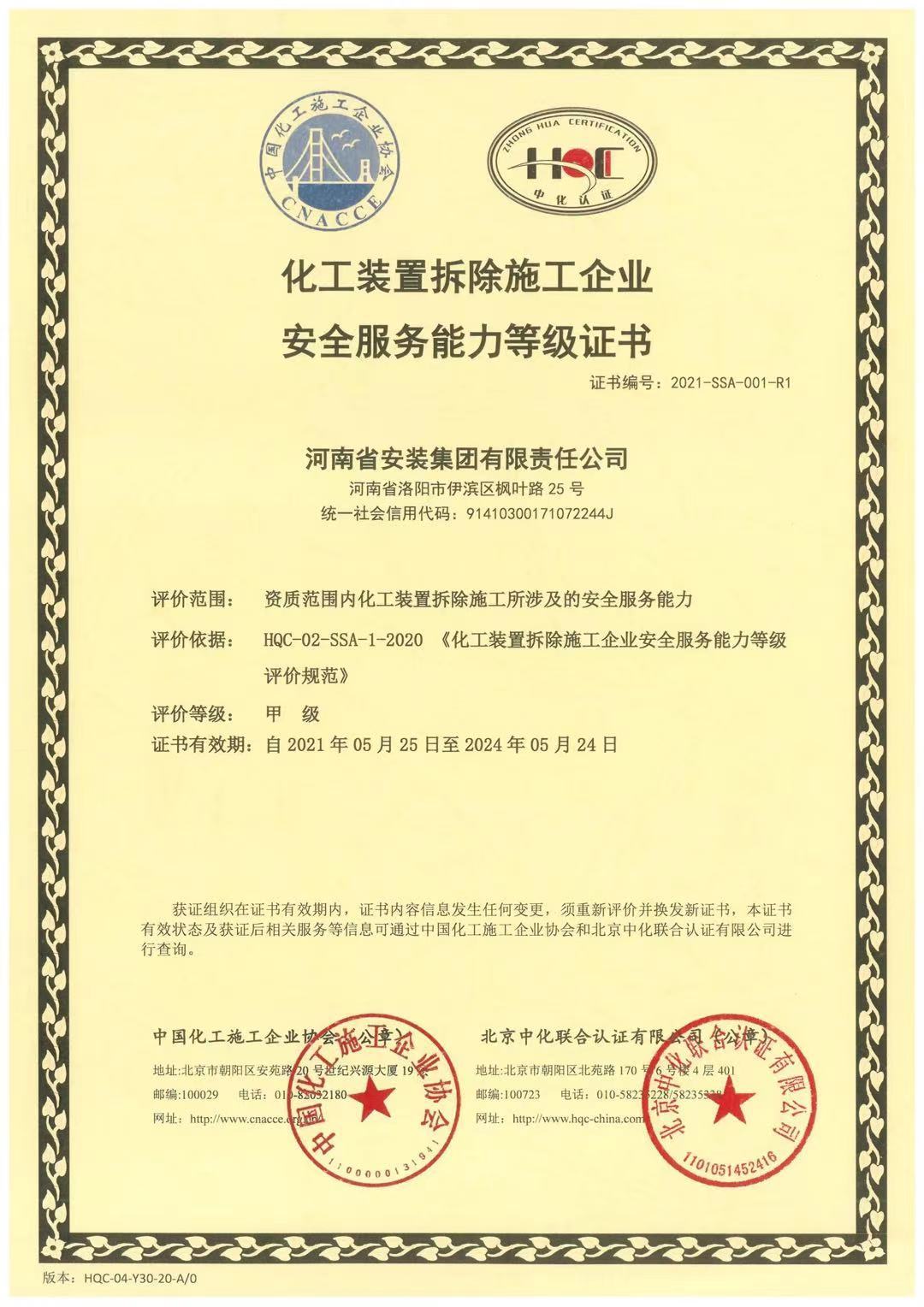 The business scope of the Class A Certificate of Safety Service Ability of the Chemical Equipment Demolition Construction Enterprise includes:
Demolition or relocation of chemical plant and chemical parks as a whole;
Overfire chemical plant;
The chemical plant with accident damages;
Chemical equipment to be eliminated;
Unfilled chemical plants and waste chemical plants;
Inorganic chemical plant;
Small-scale inorganic chemical plant;
Chemical industry production workshops, auxiliary workshops, storage and transportation systems, offices and other buildings;
Various steel structures, equipment foundations and civil construction facilities supporting production.
In view of the great danger in the construction operation of chemical plant dismantling, during the review process, members of the expert group reviewed in detail the group company's qualifications and capabilities, system construction, professional capabilities of practitioners, and specific conditions on site. The safety and civilized construction of the Xinlianxin Green Manufacturing Project was reviewed on-site. After rigorous and careful review, it was finally determined that the group company's chemical plant dismantling construction safety service capability meets the Class A standard.
The acquisition of this certificate will help the group company to further develop the business of dismantling chemical equipment and enhance the group company's market competitiveness.
---