Centralized procurement platform Information management system Online message
The foundation Stone Laying and Signing Ceremony of Junhe Yungu Luoyang Information Technology Port Project was Successfully Held
---
On the morning of June 29, 2022, the foundation laying and signing ceremony of Junhe Yungu luoyang Information Technology Port project, which was contracted by the Group company, was successfully held. He Wuzhou, Secretary of Party Working Committee of Yibin District, Fan Cantao, Deputy Secretary of Party Working Committee and Director of Management Committee of Yibin District, Shi Zhengxian, vice President of Shanghai Junhe Group and President of Shanghai Junhe Industrial Development Group, Huang Kezheng, Secretary of Party Committee, chairman and President of Henan Installation Group and other leaders attended to witness this important moment.
At the ceremony, Fan Cantao delivered a speech. He expressed high hopes that Shanghai Junhe Group would give full play to its advantages in industrial development, construction and operation, help Yibin build a high-tech industrial community with high industrial functions, and accelerate the realization of high-quality development of Yibin. And said that the Government of Yibin District will maximize the implementation of the central provinces and municipalities on the latest preferential policies for enterprises, supporting services, to ensure that the project put into use as soon as possible, and jointly open a new chapter of mutual cooperation and benefits.
Shi Zhengxian expressed his gratitude to the Luoyang Municipal Party Committee and Municipal Government, Yibin District Party Committee and District Government and other competent departments for their support. He said that the project will fully promote the integration of five chains including "supply chain, capital chain, industrial chain, innovation chain, and operation chain", and rapidly build the park into a regional innovation business card and an industrial gathering highland.
Huang Kezheng said in his speech that the group company must fully carry forward the Yu'an spirit of "striving, enduring hardship, and collectiveness" and the fine style of "being especially able to endure hardship, especially able to fight, and especially able to contribute", insisted that the project is king, selected elite soldiers, scientific management, standardized construction, reversed the construction period, worked hard and quickly, strictly controlled the quality, safety and progress of the project construction, and strived to make the project a model Engineering, brand engineering, fully ensure that Junhe Yungu·Luoyang Information Technology Port is put into use as soon as possible, forming an industrial agglomeration effect, adding new momentum to the construction of Yibin Science and Technology Zone, helping to become Luoyang City's high-tech innovation highland, and focusing on leading the development of innovation in the city Contribute more.
As the leaders of the rostrum pressed the starter together, colorful fireworks rose into the air, and the loud salute was exciting, marking the official start of the project construction. Afterwards, the main leaders and guests who participated in the ceremony jointly laid the foundation for the project.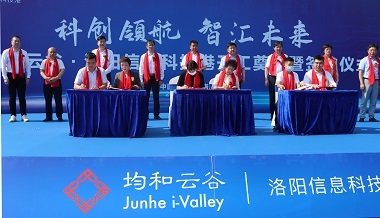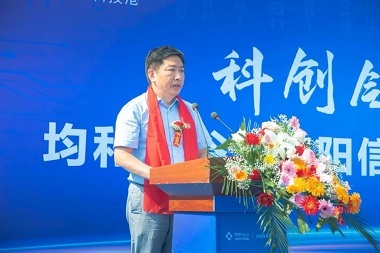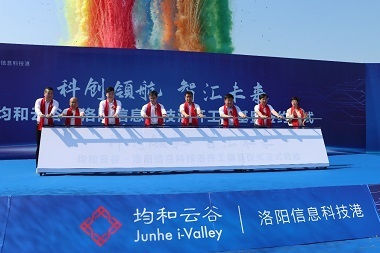 ---