Centralized procurement platform Information management system Online message
The batching silo of Taishan Fiberglass Zoucheng Project Department was successfully hoisted
---
At 20:10 pm on September 4, 2021, the Taishan Fiberglass Zoucheng Project Department successfully completed the lifting of 13 batch silos.
As a raw material mixing workshop, the batching room plays a vital role in the production of glass fiber. The installation standard of the silo in the batching room directly affects the production efficiency. A total of 51 days from the production to the installation of the silo, continuous rainy days have brought great difficulties to the production of the silo, and it has also become a big challenge to complete the hoisting work on schedule. However, all the project team members worked together and organized rationally. As a result, they complete the production of the silo on schedule, and make sufficient preparations for the hoisting of the silo.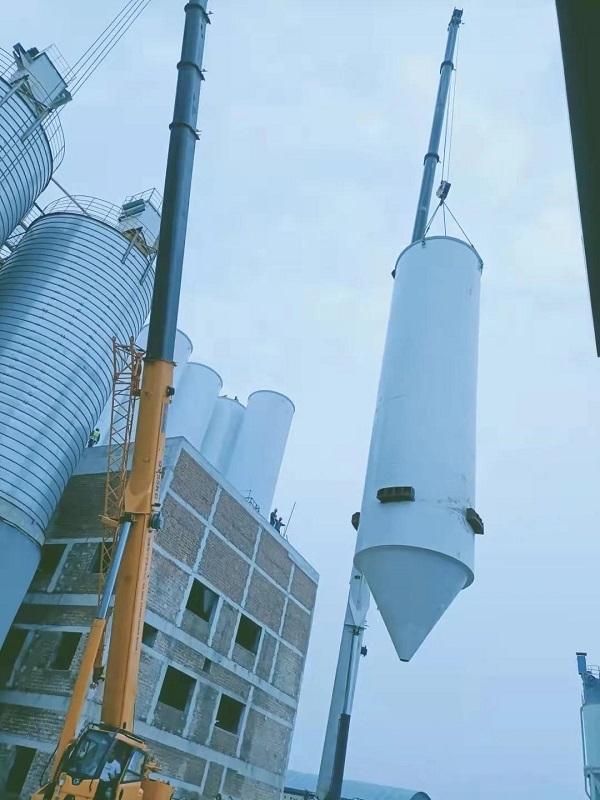 During the hoisting process, as the height of the road trusses in the factory area of Party A is limited to 4.5 meters, it will be unloaded from the production site to the east side of the F05 batch after loading. At the same time, two 75-ton truck cranes are used for loading and two flatbed trucks are used to transport the silo to a position where the 200-ton crane is convenient for lifting. The 25-ton truck crane and the 200-ton truck crane are used to lift the silo of the assembly room, and the silo hoisting work is finally completed successfully.
---